We are excited to share with you the artwork to be used for the cover of the forthcoming "At The BBC" release, which features the bands two Radio 1 sessions, available for the first time since the original broadcasts.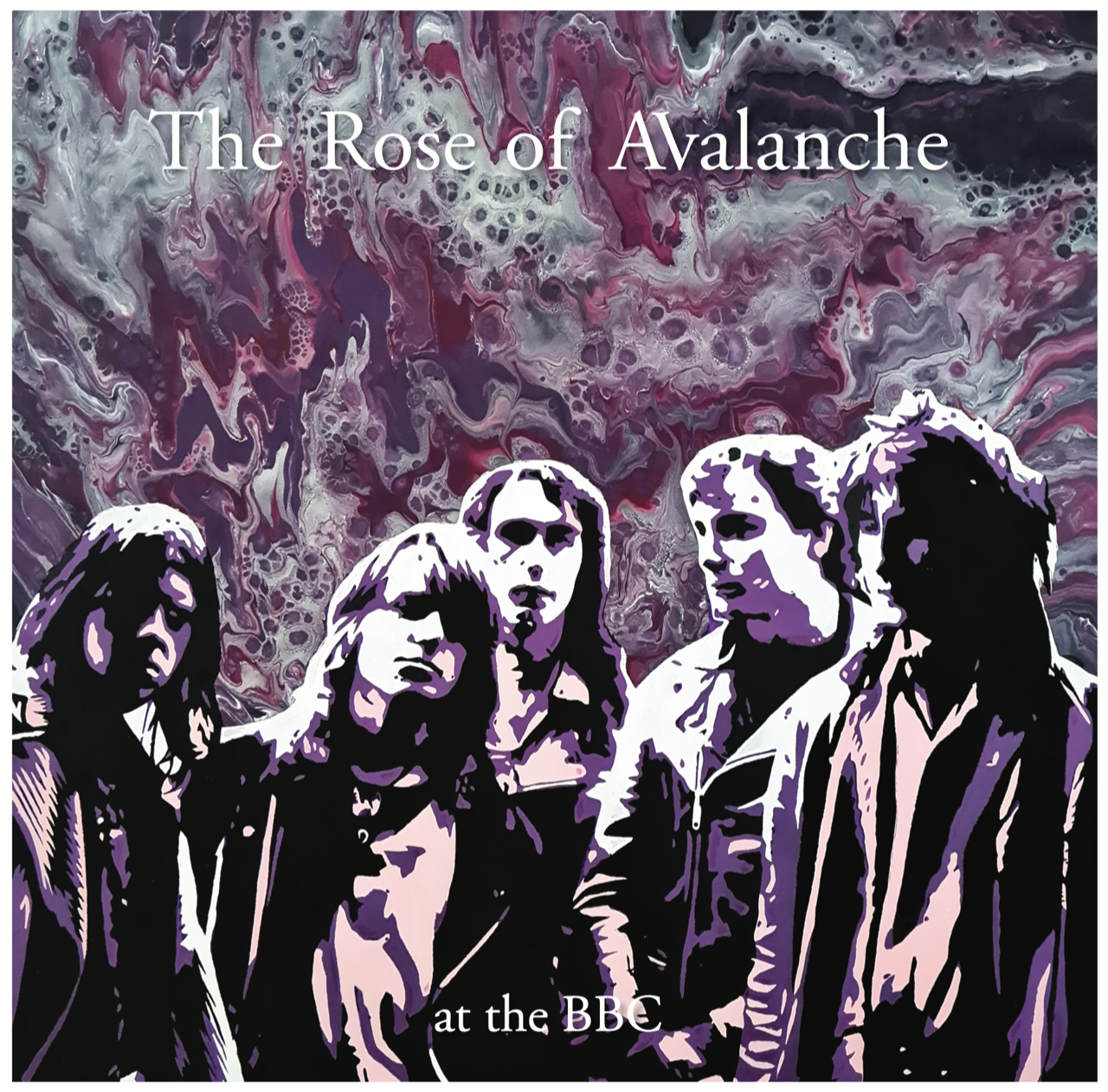 Behind the scenes we are really working hard to make this release special, and to try and rekindle that wonderful feeling of poring over the sleeve while you're listening to the music. 
We have teamed up with Phil Pike, a.k.a. Pip Pop Art who created an original canvas painting using an old promotional photo of the band from back in the day. We were blown away with the result, we hope you love it too!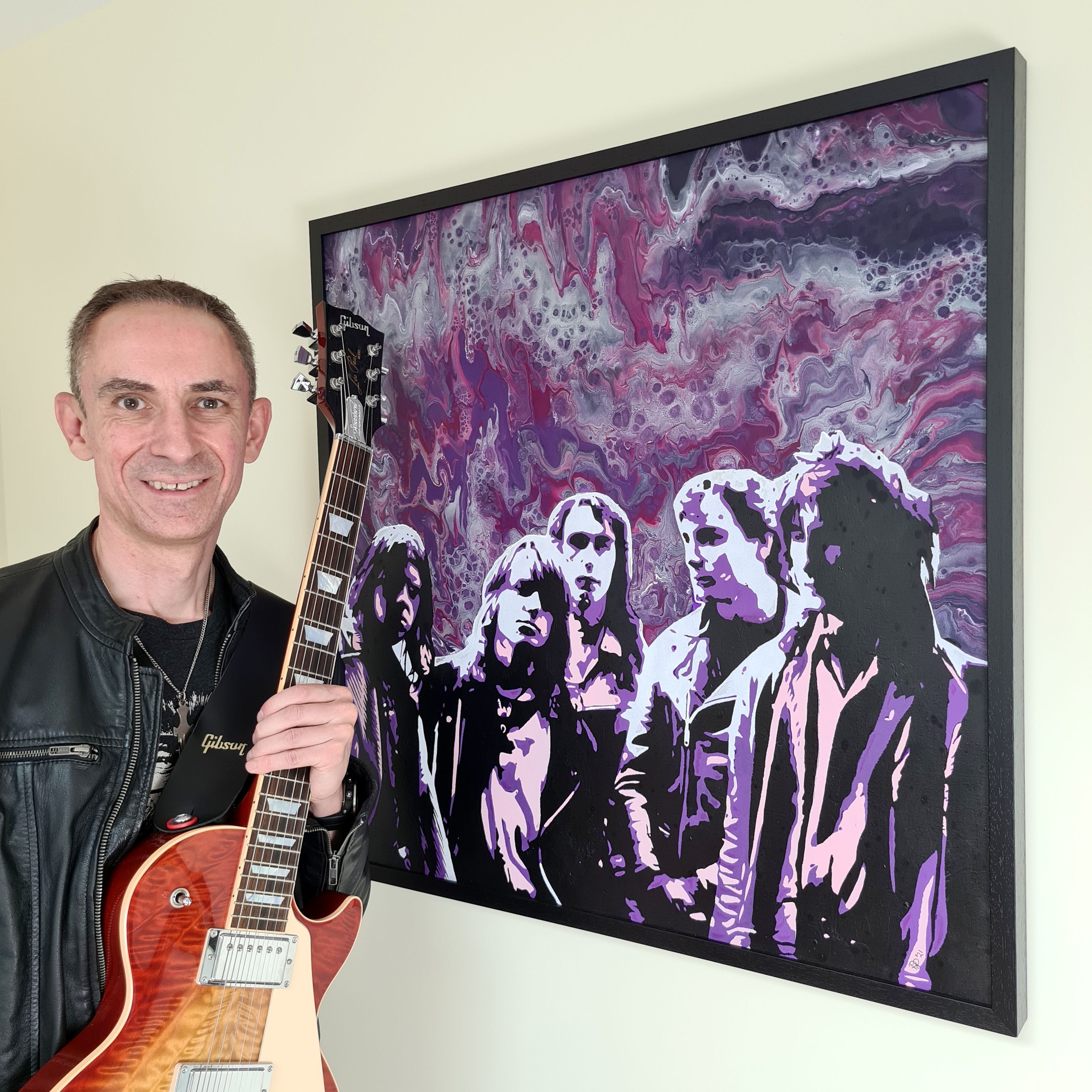 To celebrate the reveal we sat down with Phil to learn more about his story. 
How did you get involved in the album project? 
I launched an 80s Goth collection last year and James, The Rose of Avalanche's manager, approached me at the start of 2021 to do a commission of Wayne Hussey from his The Sisters of Mercy era with his 12 string guitar. James was so pleased with the painting I did for him that more recently he contacted me again and told me he was the manager of the band and asked if I was interested in doing some artwork for their new album. I obviously jumped at the chance to be involved with such a cool band and exciting project, and was really proud to be asked to do the cover. 
Are you pleased with how The Rose painting turned out, can you describe your process? 
Yes, I'm really pleased with the end result and hope everyone else thinks so too! I used a pour technique with liquid acrylics in various shades of purples, pinks and silver to create the dramatic background. This is left to dry and cure for 2 to 3 weeks prior to painting the band portraits over the top to create the final image. 
You became an artist later in life, tell us how that came about? 
Yes that's right although I did enjoy painting as a hobby when I was younger. I never really had the time to carry on due to pursuing a corporate career as well as bringing up a family which took up most of my time. It's only as I approached my 50s and my kids grown up that I have found more time to pursue some of my passions that have had to take a side line over the years. I decided to go part time in my professional job, join a band and start painting again. That's when I started my Pip Pop Art venture. 
Music is a clear passion of yours - it's the primary focus of your art and you are also a guitarist in a band. What does music mean to you? 
I've always loved music and my life has revolved around it, whether it's listening to my favourite artists, going to gigs, or playing with my band. The post punk new wave music of the early 80s was what really got me hooked and it's still the best era in music for me. I still listen to all those great artists, Adam Ant, Blondie, Human League, OMD, Gary Numan etc from that time period 40 years later. 
How do you come up with the ideas for your collections? 
It's pretty easy really as I just paint all the artists that I know and love and mean something to me. I really think you have to be inspired with the subject matter that you are painting to make it enjoyable, and I absolutely love all the bands from that era. The hardest thing is just deciding specifically which bands and artists to include in the collection as there are so many great ones to choose from. 
Which collection and individual painting has been your best sellers? 
My 80s Goth Collection has been particularly successful and I have picked up a lot of Goth music followers on the back of it. I think it's down to the bold, colourful style I have used which you don't often see with Goth work which tends to be on the black and darker side, but people seem to like it. There's also less people painting some of the Goth artists so people are really enthused to see an entire collection of their favourite genre. In terms of specific paintings, my Adam Ant and Blondie paintings have probably been the best sellers to date as they are such iconic images and still have wide spread popularity. 
Were you into any of those goth bands back in the day? 
Yes I was absolutely in to those bands back in the day. It was kind of the cool music you matured into in your mid-teens as you move on from the poppier end of the spectrum. I have very fond memories of dancing to The Cult at Images nightclub in Worcester where I grew up when I was 17 or 18. The inspiration simply comes from painting the bands I love – I also like to put on my old records of these artists when I paint them as its often an excuse to refamiliarize myself with some old favourites that I might not have listened to in a while. 
Has the success of your paintings surprised you? What do you have up your sleeve for your next collection? 
Gosh yes, it's totally blown me away! I have picked up over 7,000 followers on Facebook in 18 months which is beyond my wildest expectations, and have sold work internationally all over the world. When I started I was just happy that anyone would even consider buying a piece of my work, but the positive support and feedback I received was absolutely overwhelming and gave me the encouragement and confidence I needed to carry on. It's great being able to do what I love and earn a little extra pocket money in the process. The main reward though is getting positive messages back from people who are getting happiness from my paintings. I've just started a 'New Romantics' collection so expect lots of colourful paintings with eccentric fashion and over the top haircuts! 
Where can people find you? 
I'm on Facebook and Instagram under @pippopart. I also have a website www.pippopart.com where you can also purchase canvas prints in various sizes of my Rose of Avalanche painting from my online shop. I'm also happy to do custom commissions and people can contact me with requests by email at pippopart@outlook.com. I'm also planning to be at The Rose of Avalanche gig supporting The Mission in Bristol next year, so if anyone else is planning to be there do feel free to come and say hello. 
Huge thanks to Pip for his amazing contribution to the album project, and you can see the final cover for the album below. We look forward to getting this into your hands as soon as possible. Stay tuned!